Did you know that the North Essex Chess League is 50 years old this season?
A 1986 publication by J.R.Priestley titled "The History of the North Essex Chess League" stated that "play begun in Autumn 1964", so  the current 2014/15 season is a semi-centenary.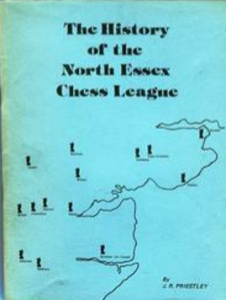 A few local players have this book which has enabled our table of league winners to be extended back to 1964/5 season, though full game details only go back to 2002/3 season for league and to 1998/9 for the Knockout and Plate events (transcribed from spreadsheets provided by events secretaries).  Perhaps you have further details or early spreadsheets in your archives covering earlier seasons to help fill in the blanks?
Clubs shown on the above cover are Billericay, Braintree, Burnham-On-Crouch, Chelmsford, Clacton, Colchester, Essex University, Felsted, Harwich, Maldon, Marconi, Wickford, Witham and Writtle. Some of these later closed, had breaks or re-named and a few more recently formed clubs have since joined. Some, such as Clacton and Braintree, pre-date the NECL, having played in the earlier established Essex League prior to the First World War.
Some local club histories may be found on-line. (e.g. Billericay and Colchester). If other clubs have composed something similar just provide the link and we can add to this list. If you have this, but not already on the web, your club secretary can upload it to the NECL server and link to it from your NECL club page.
Any volunteers to write an article putting all this together, as an on-line update to the earlier book? Any suggestions to put to the Committee on how to mark this occasion?